Life Cycle
Life Cycle
Children | B'nai Mitzvah | Conversions | Weddings | Funerals | Cemetery
Life Cycle Events
Bet Mishpachah offers a full range of traditional and non-traditional life cycle events, with rabbinical as well as communal support. We want to celebrate with you in your times of joy, and console you when you are bereaved.
As part of our commitment to innovative liturgy, feminist theology, and LGBTQ+ ritual, we are also open to developing new ceremonies to meet our community's needs. So if you are interested in marking a coming out, a gender transition, a healing from trauma, or some other important milestone, please let us know.
A great way to celebrate or remember a life cycle event in your life or the life of someone you care about is to sponsor an oneg on Friday night or Kiddush lunch on Saturday afternoon. To do so email administrationdirector@betmish.org.
The life cycle events the congregation has commemorated include:
Rabbi Laurie Green officiates at a pidyon ha-ben ceremony for a baby boy.
Events include baby naming ceremonies, b'rit mila (circumcision), b'rit bat (covenant ceremony for a daughter), and pidyon ha-ben/bat(redemption of the first born).
For information and to make arrangements for one of these events, contact the rabbi or the VP/Religious Affairs.
Bar and Bat Mitzva ceremonies for both teenagers and adults
For information, contact the rabbi or the VP/Religious Affairs.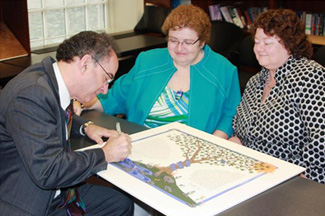 Rabbi Emeritus Bob Saks signs a ketuba (wedding contract) for a newlywed couple.
Weddings and Kiddushin ceremonies
Wedding of two Bet Mish members in July 2011.
.
Bet Mishpachah has long offered Jewish weddings (or Kiddushin). The first Kiddushin at Bet Mish was in 1988. Same-sex weddings became legally recognized in the District of Columbia in 2010, in Maryland in 2013, in Virginia in 2014 and federally in 2015.
Whether you are looking for a civil marriage license, a Jewish ceremony or both, our rabbi can assist you. Rabbi Green officiates for interfaith couples, opposite-sex couples, same-sex couples, out-of-town couples and many others. For information, contact her.
Counseling and learning are available for persons considering conversion. Bet Mishpachah welcomes Jews by choice and their family and friends. For further information, contact the rabbi.
The congregation and the rabbi are available for assistance and comfort.
Members can inform the congregation of a death by sending an email to bereavement@betmish.org.
Bet Mishpachah is a member congregation of the Jewish Funeral Practices Committee of Greater Washington, and congregants can arrange for funerals at participating funeral homes. Rabbi Green is available to officiate at services.
Shiva services can be conducted in the homes of members. The congregation has developed its own liturgy for shiva services conducted in houses of mourning.
Bet Michpachah's cemetery
Bet Mischpachah owns a section of the historic Elesavetgrad Cemetery in the Congress Heights section of Washington, DC. It is adjacent to the Ohev Shalom, Adas Israel, and Washington Hebrew Cemeteries. The address is 3233 15th Place SE, Washington, DC 20020-2903. The cemetery is Metro accessible via the Congress Heights Metrorail station on the Green Line.
Information about the Bet Mishpachah cemetery.
Members and their immediate family may acquire sites for $2,000 per site
The purchase price includes perpetual care
The purchase price does not include opening and closing costs
Gravestones are required, but are not included in the purchase price
Pre need purchases may be paid in full or in installments
Time of death purchases must be paid in full within 45 days of interment
Interfaith couples are permitted; however the certificate of ownership will be registered in the name of the Jewish spouse. Non-Jewish religious symbols are not permitted on gravestones. No other faith services may be conducted graveside
Inurnments of cremated remains are permitted
Grave liners are not required
For further information or to purchase a site, contact Allan Armus at 703-525-4261.
Mon, February 24 2020
29 Shevat 5780
This week's Torah portion is

Parshat Terumah
Candle Lighting
Havdalah
Motzei Shabbat, Feb 29, 6:51p
Rosh Chodesh Adar
View Calendar
Mon, February 24 2020 29 Shevat 5780